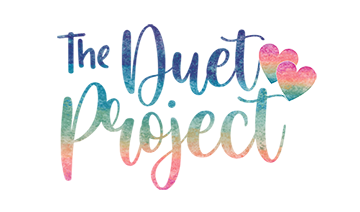 The Duet Project Membership
The Duet Project Membership
A digital magazine experience that you use for CONNECTION AND EXPRESSION. It's perfect for ALL PAIRS who want to understand each other in a deeper way using Conversation Starters that go deep into one theme each month while being creative and busy using your hands to make a craft. Busy hands and open hearts.
It's perfect for people who want to:
Be guided along the path each month to nurture a relationship.
Establish loving and friendship-filled relationships.
Cultivate a deeper connection with another human.
Expand your skills with crafting.
Bridge a long distance with a loved one.
Share your thoughts, dreams and ideas with someone in your life.
Feel confident in your creative process – it's about the journey, not the product.
Here's Exactly What You Get:
Monthly interactive magazine with a unique theme and art project.
List of supplies and link to an Amazon Wish List for easy ordering.
Link to a video demonstrating the art project and process.
Clear written instructions.
Link to coordinating podcast interview.
A minimum of six Conversation Starters that start out easy and become more intimate and profound as the questions evolve during each session.
Black and White printable pages, where needed, to make templates.
Downloadable Reflection Page to document your experiences each month…
… and more!
$18 per month
– or –
$198 for one year
(you get 12 months for the price of 11!)